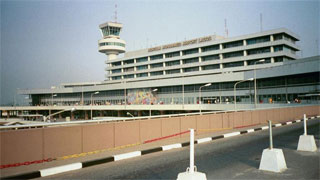 Murtala Muhammed International Airport is an international airport located in Ikeja, Lagos State, Nigeria, and is the major airport serving the city of Lagos, southwestern Nigeria and the entire nation. The airport at Ikeja near Lagos was built during World War II. West African Airways Corporation was formed in 1947 and had its main base at Ikeja. De Havilland Doves were initially operated on WAACs Nigerian internal routes and then West African services. Larger Douglas Dakotas were added to the Ikeja-based fleet from 1957. Recent years have seen substantial improvements at Murtala Muhammed International Airport. Malfunctioning and non-operational infrastructure such as air conditioning and luggage belts have been repaired. The entire airport has been cleaned, and many new restaurants and duty-free stores have opened. Bilateral Air Services Agreements signed between Nigeria and other countries are being revived and new ones signed. These agreements have seen the likes of Emirates, Ocean Air, Delta and China Southern Airlines express interest and receive landing rights to Nigeria's largest international airport.
URL:
https://www.lagos-airport.com/
Location: Ikeja, Lagos State, Nigeria
*Source of information: Wikipedia.